Marilynne Convey Aplastic Anemia & Myelodysplasia Association of Canada (AAMAC) Award 2022 Award Recipient, Tori Sutyla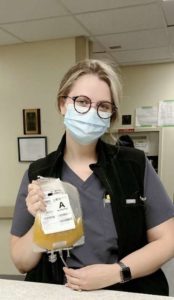 I was drawn to the nursing profession after watching many individuals in my family receive care for their cancer diagnoses. The compassion and dedication their nurses displayed was truly inspiring. I had a strong background in science coming out of high school, having participated in an advanced placement program which helped to prepare me for my undergraduate nursing studies.
After finishing my undergraduate nursing degree, I chose to start my career in oncology, with a focus in stem cell transplantation and acute hematological malignancies. Working in this area inspired me to further my education and I am currently enrolled in a Nurse Practitioner Masters program. I hope to graduate and continue working in acute malignant hematology, as this patient population is so important to me, and I could not imagine working with anyone else. I have had the privilege to care for many patients during my career with similar stories to that of Marilynne Convey, and I am honoured
to have been chosen to receive this award.
I would like to thank the AAMAC, the Canadian Nurses Foundation, and Marilynne for
supporting me in my educational pursuits. I hope to make you all proud and continue this
tradition of giving back.

Invest in nurses. See the difference in healthcare.