Clinical Trials
A CHANCE TO CHANGE PNH TREATMENT DELIVERY OPTIONS!
Enrollment is currently open to be part of a short 10 week clinical trial to evaluate the self infusion for Ultomirus the extended version of Soliris.  Ultomirus has now been approved by the FDA in the USA and patients are already switching to the extended version as infusions are every 8 weeks vs every 2 weeks currently. As of this week over 40% of patients in the USA have switched to Ultomirus.  Currently Ultomirus is administered through infusion by a nurse. The new clinical trail is to evaluate self-infusion ie by yourself vs having to make an appointment with the clinic etc. And this can be done at home or while away………
If you are interested in participating in this exciting new delivery method for your PNH treatments please email the Canadian Association of PNH Patients at  question@pnhca.org  or telephone them at 416 340 5233.
COMMANDS: A Phase 3 study of luspatercept (ACE-536) vs epoetin alfa for the treatment of anemia in patients with MDS
For patients with IPSS-R very-low-, low-, or intermediate-risk MDS dependent on red cell transfusions, the COMMANDS trial may be of interest for you.
The COMMANDS trial is a Phase 3 trial comparing a new treatment, luspatercept (ACE-536), against epoetin alfa in patients who have not taken erythropoiesis-stimulating agents (ESA) before.
Patients who qualify for this trial will be randomly assigned to receive either luspatercept or epoetin alfa. In both treatment arms, best supportive care may be used at the treating clinician's discretion.
To learn more, please visit the COMMANDS trial page. If you feel that you qualify, please print the clinical trial information and discuss with your oncologist/hematologist.
PEGASUS: A Phase 3 study to evaluate the efficacy and safety of APL-2 in patients with PNH
This study is now full
Have you been diagnosed with Paroxysmal Nocturnal Hemoglobinuria (PNH) and are currently taking eculizumab for your condition?
Interested in learning more about a clinical trial for PNH?
A Phase III trial for patients with PNH is enrolling now! Click on the PEGASUS Study Website link below to learn more. The trial is being conducted at multiple sites in Alberta, Ontario, and Quebec.
Looking for another clinical trial?
AAMAC works with partners to provide ways to participate in clinical trials near you. There are several ways to find clinical trials, including a quick search function provided by Antidote.
Antidote delivers clear, unbiased information about clinical trial options. They aim to match patients to the best trial, regardless of the sponsor. Find their privacy policy here.
LOWER-RISK MDS CLINICAL STUDY (IMerge)
NOW ENROLLING
IF YOU NEED BLOOD TRANSFUSIONS DUE TO ANEMIA (LOW RED-BLOOD CELL COUNTS), YOU MAY BE ELIGIBLE TO PARTICIPATE IN THIS STUDY.
People with low or intermediate-1 that is relapsed or is refractory to Erythropoiesis-Stimulating Agents (ESAs) treatment are to be enrolled in the IMerge study.  This study is being conducted at multiple hospitals and institutions globally.
For more information about the IMerge study, please visit www.clinicaltrials.gov (NCT02598661)
For more information on enrollment, email MDS3001-info@geron.com.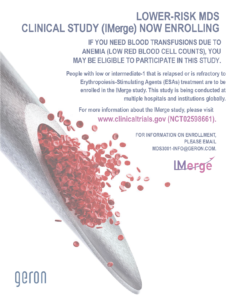 IMerge Trial Now Enrolling: Phase 2/3 Clinical Trial to Evaluate Imetelstat in Transfusion-Dependent Participants With Low or Intermediate-1 Risk Myelodysplastic Syndrome (MDS) That is Relapsed/Refractory to Erythropoiesis-Stimulating Agent (ESA) Treatment
Current Status: Part 1 recruitment complete; Part 2 (Phase 3) is now open for recruitment. For additional details, refer to the Geron press release (08 Aug 2019)
Geron Corporation is conducting a Phase 2/3 clinical study referred to as "IMerge", with the study drug Imetelstat, which is a first-in-class telomerase inhibitor. With its novel mechanism of action, Imetelstat may provide clinical benefit to MDS patients. In this study, Imetelstat is administered as a 2-hour intravenous infusion every 28 days.
IMerge is a study for people with MDS who need blood transfusions due to anemia (low red blood cell counts). People with low or intermediate-1 risk MDS that has relapsed or is refractory to Erythropoiesis-Stimulating Agents (ESAs) treatment are to be enrolled in the study.
This study is being conducted at multiple hospitals and institutions around the world, in approximately 90 sites globally. For more information about this clinical study, please visit www.clinicaltrials.gov (NCT02598661).
Research study for adults with anemia due to MDS is seeking participants
If you or any of your loved ones suffer from anemia due to myelodysplastic syndrome, you may be eligible to participate in a research study.
Patiro, a clinical trial patient recruitment company is recruiting candidates in different parts of the world for a study investigating new treatment options for adults with anemia due to Myelodysplastic Syndromes (MDS). The trial is taking place in specific locations in Canada – Ottawa, Toronto, Hamilton, Montréal, Edmonton and Calgary.
You can find more information about this clinical trial and how to enroll, at https://www.health-panel.com/research-projects/research-study-for-adults-anemia-mds-myelodysplastic-syndrome/.
Click here for  the survey.  Before beginning the survey on MDS, you will need to create a health profile by entering a name, email address, age, etc.
Disclaimer
AAMAC does not recommend, endorse, or make any representation about the efficacy, appropriateness or suitability of any clinical trial listed on this website.
Pharmaceutical company-sponsored content is highlighted only to give additional information about the trial. All trials are listed on https://clinicaltrials.gov/. Always seek the advice of your physician or other qualified health care provider with any questions you may have regarding a clinical trial, and never disregard professional medical advice or delay in seeking it because of something you have read on this website.