2021 MARILYNNE CONVEY AAMAC AWARD RECIPIENT: REANNE BOOKER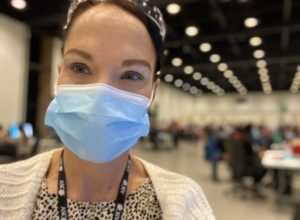 I became a nurse after taking a nursing course during my undergraduate science degree program. I wasn't quite sure what I wanted to do with my career and took a few elective courses. After completing just one nursing course, I knew immediately that I wanted to become a nurse. It was one of the best decisions of my life. I've spent most of my nursing career working in the fields of oncology nursing and palliative care. More recently, I've also been helping with the COVID19 vaccination program. I have always felt incredibly fortunate to have a career that affords so many different opportunities and provides so many rewards.
A few recent accomplishments that I am very proud of include: being the President of the Canadian Association of Nurses in Oncology, becoming involved in global oncology initiatives, and completing my PhD candidacy (yay!). However, my proudest moments have always been those quiet times, one-on-one with a patient or their family. Being part of some of the best yet also, some of the most difficult moments in people's lives is a privilege that I don't take lightly. I am very honoured and proud to be a nurse and extremely grateful to the CNF and its donors for this tremendous support.
AAMAC has supported a Canadian Nurses Foundation grant since 2000. The AAMAC Nursing Scholarship has been renamed in honour of Marilynne Convey. Sadly, Marilynne, an AAMAC board member, passed away on November 13, 2020.  She was diagnosed with Aplastic Anemia in 2015 and became an avid spokesperson for AAMAC and volunteered much of her time to lead the nurse education program and attend the Haematology conferences.
This is the first year the AAMAC Nursing Scholarship will be awarded in Marilynne's name.