October 25th is MDS Awareness Day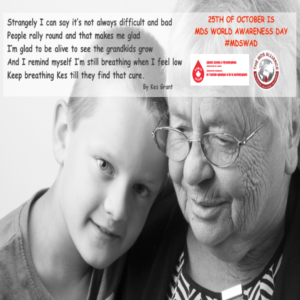 This year the MDS Alliance has decided to focus on poems as a way of expressing  feelings about living with MDS or being affected by it.
Poems will be shared on our website and social media on October 25th.  Check out our Facebook, Twitter, Instagram and LinkedIn pages using the hashtags#LivingwithMDS #MDSWAD #Poetry, #Haiku
International Poem
By Kate D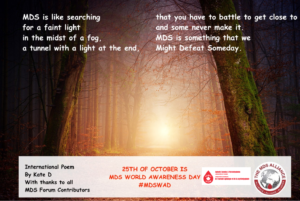 Thank you AAMACs Patient Support Liaisons Fiona Lewis and Kimberly Brunelle, and all the other 
healthcare providers who support MDS patients
OCTOBER
Written by Kate D.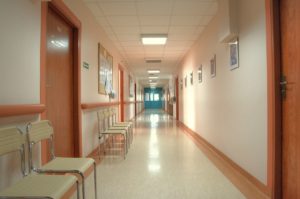 Once diagnosed, we begin a long journey
Circumnavigating appointments and doctors and
Treatments,
Or not, as we
Become used to the waiting rooms and watching and waiting
Expecting the unknown, not knowing what to expect,
Relying upon the expertise of those we don't know.
Thank you to all the physicians and nurses for supporting AAMAC patients


US MDS Alliance Members – MDS Foundation, Inc. and AA & MDS International Foundation Poem
Written by Neil Horikoshi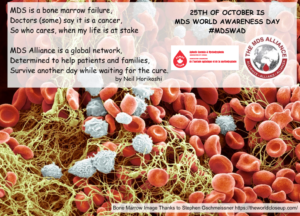 Thank you to the Aplastic Anemia and MDS International Foundation and the MDS Foundation 
for sharing your valuable MDS resources
Korean Poem MDS World Awareness Day 2019
Written by KBDCA (Korean MDS Group)
[English Version]
Happiness is no where
There is no place to go and nothing to do.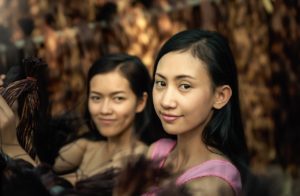 I am an MDS patient.
Happiness isn't here now.
I'm relieved of my worries.
But no hurry anymore.
I have a family.
Happiness is here now.
I got rid of my worries.
Happiness is now here.
[Korean Version]
<행복은 어디에도 없습니다>
갈 곳이없고 할 일이 없습니다.
저는 MDS 환자입니다.
행복은 지금 여기에 없습니다.
걱정이 덜어졌습니다.
그러나 더 이상 서두르지 마십시오.
나는 가족이있다.
행복은 지금 여기 있습니다.
걱정이 없어졌습니다.
행복은 지금 여기 있습니다.
The meaning of this poetry:
The most important thing for cancer patients is the will. Cancer fighting is a long fight not only alone, but with the family. That's why it's important to have a positive mind and think that you'll be cured.
The sentence "Happiness is no where" and the sentence "Happiness is now here" have only one space difference. I wanted to tell you through poetry that everything depends on minor differences and mindsets.
Thank you to the MDS Alliance for your ongoing support for MDS patients around the world.