Webinar – Understanding the Drug Approval Process in Canada
Date: Tuesday October 19, 2021
Time: 3PM (Eastern Time)
Speaker: Anil Kaul – Associate Director, Patient Access, Sobi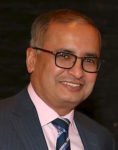 Objectives:  To gain a better understanding of:
The many players involved in the drug approval process and their roles
Why it takes so long to get coverage from Private Insurers and Provinces?
What role do the patients and patient associations play?
To register:
Complete the form below; or
email info@aamac.ca; or
call 1-888-840-0039
Register
Please fill out the form below to register for the meeting.