MDS – New and Emerging Treatments
Date: Monday October 17, 2022
Time: 1PM (CT) | 2PM (ET)
Speaker: Brett Houston, MD, PhD
To register:
Complete the form below; or
email info@aamac.ca; or
call 1-888-840-0039
ABOUT THE SPEAKER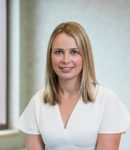 Brett Houston is a hematologist and clinician-scientist at CancerCare Manitoba. She recently completed a PhD in clinical epidemiology and clinical trials at the University of Manitoba. Her clinical expertise focuses on myelodysplastic syndromes and acute myeloid leukemia. She is developing a program of research that closely integrates patient care with clinical research in the area of MDS and AML.
Register
Please fill out the form below to register for the meeting.