MDS Foundation – Toronto MDS Patient Webinar
12 PM – 2 PM ET
September 25, 2021 – Toronto MDS Patient Webinar
Updates from EHA 2021: Promising Treatment Advances for MDS and AML – Heather Leitch, MD, St. Paul's Hospital, Vancouver, Canada
Updates from the European Hematology Association (EHA) 2021 Virtual Congress will be presented. This webinar will provide an overview of new emerging treatments for MDS and AML patients. The latest promising clinical trials and research findings impacting the biology and treatment of MDS, and AML patients will be discussed.
The Role of Allogeneic Stem Cell Transplant in MDS – Bart L. Scott, MD, Fred Hutchinson Cancer Research Center, Seattle, Washington
This presentation will focus on reduced-intensity allogeneic stem-cell transplantation as a treatment option for MDS and describe strategies to manage treatment side effects as well as potential long-term and late effects of hematopoietic cell transplantation.
Aplastic Anemia and Myelodysplasia Association of Canada – Cindy Anthony, Executive Director, AAMAC
About AAMAC and its resources for patients, caregivers and healthcare providers will be discussed.
To register please go to https://zoom.us/webinar/register/WN_6xVfxkoTQKmWO-W45NSyXg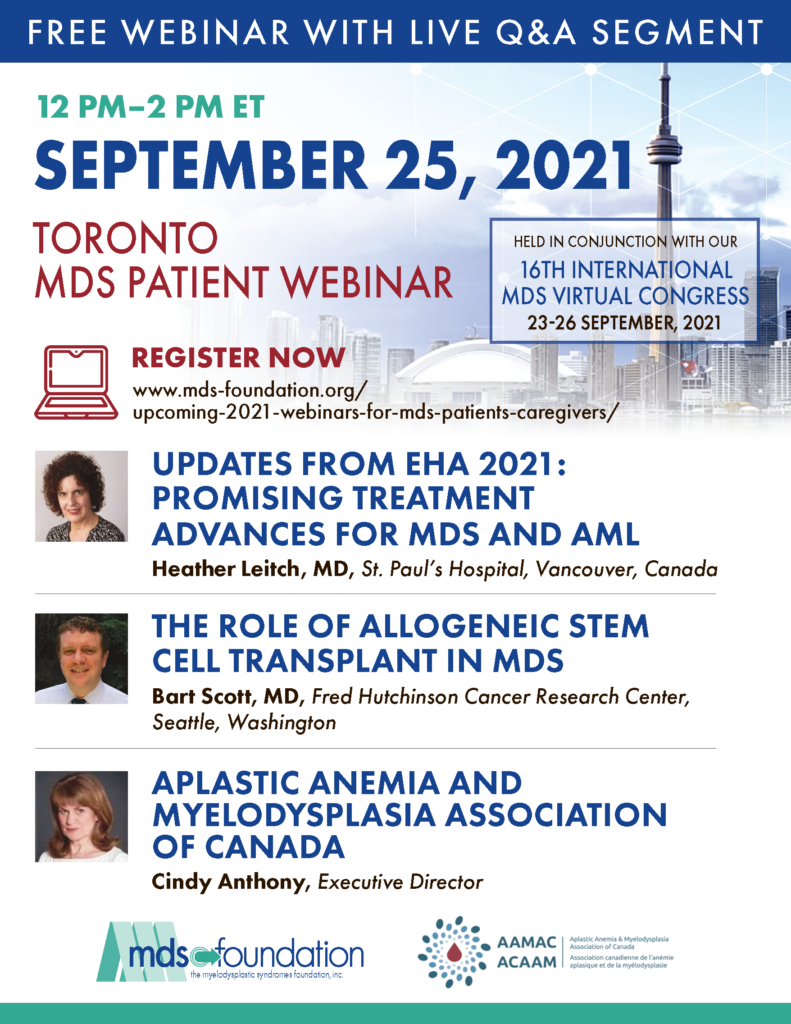 Register
Please fill out the form below to register for the meeting.