London Patient Support Meeting – Saturday April 18, 2020
Join Aplastic Anemia & Myelodysplasia Association of Canada for
AN INFORMATIVE MORNING AS WE WELCOME TWO EXCITING GUEST SPEAKERS
Saturday April 18, 2020
9 am – 12 pm
Wellspring Cancer Support Centre in the YMCA
382 Waterloo Street
London, ON N6B 2NB
Speakers:
Chris van Doorn from Canadian Blood Services
Chris is the Stem Cell Territory Manager in Ontario and will be giving us an inside look into the Stem Cell Registry. Want to know how you can be a donor? Have questions about how donors are matched with recipients?
Dr. Cyrus Hsia, Hematologist at London Health Sciences Centre
Dr. Hsia will be joining us to help you to better understand how to interpret your blood work results. Bring your most recent blood work results and join us as we review everything you need to know about how to read your results.
Agenda: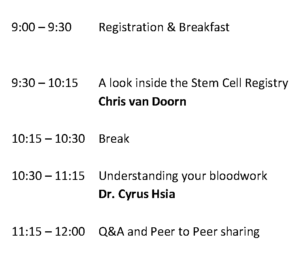 To register email info@aamac.ca or call 1-888-840-0039
Register
Please fill out the form below to register for the meeting.